On February 24th, 2022, Russia's invasion of Ukraine spurred global solidarity. In response, Ludmila Christeseva initiated a series of crucial textile workshops, dedicated to crafting camouflage nets for the Ukrainian Armed Forces under the motto "Hantverk som räddar liv" (English: Crafts that Save Lives). Taking place every Saturday, these workshops have evolved into a symbolic humanitarian journey, providing a warm integration to newly arrived Ukrainian mothers and children. The movement gained momentum as textiles from Swedish households across the country were recycled, all in the pursuit of peace and freedom.
In July 2022, Christeseva expanded her initiative by showcasing 'Crafts that Unite, Heal, and Last' at Mäster Olofsgården. Her vision encompassed joint activities such as weaving, painting, and cooking, fostering language skills and cultural exchange between Swedish and Ukrainian participants.
Ludmila Christeseva exclusively leads this endeavor. For press, purchasing art, or collaboration, kindly contact the author.
Photograph: Sebastian von Wachenfeldt
The Minister of Foreign Affairs Ann Linde wove a band into one of the camouflage nets together with the artist Ludmila Christeseva.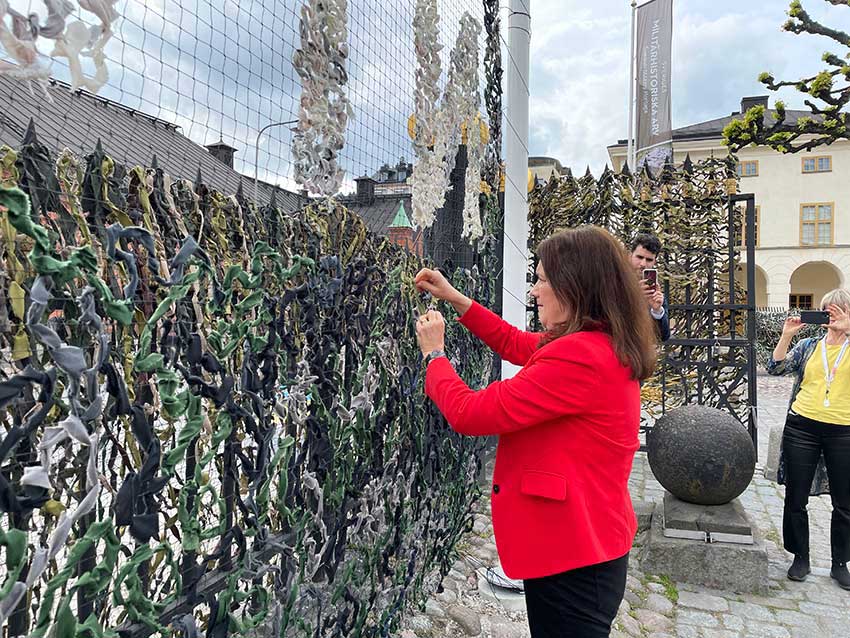 The camouflage pattern is a constant presence in our lives, encompassing wildlife hunting and fashion trends. During times of war, camouflage nets shield both people and equipment from the enemy's watchful eye, ultimately saving lives. While the origins of camouflage trace back to antiquity and myths enumerate various techniques for its creation, the Ukrainian camouflage technique uniquely combines artisanal know-how, focusing on sisterhood and sustainability.
The Russian invasion of Ukraine spurred a demand for camouflage nets, prompting numerous Ukrainian women to cultivate the art of crafting camo nets from new textiles and recycled fabrics since 2014. These years of weaving have become an integral part of Ukrainian culture, weaving tales of hope, justice, and optimism. One remarkable participant, Masha Babii from Kiev, has been diligently braiding camouflage nets since 2014. As she enters her twenties, pressing questions emerge: What lies ahead for Masha and her friends in Ukraine? How can we shape their future?
art
Every Saturday:
since 24.02.2022
The workshops are free of charge and open to everyone. During the workshops, we share a Swedish Fika, discuss creative ideas, and support each other. Despite not sharing a common language, our bond and shared comprehension find their foundation in the language of crafts. It's a remarkable voyage we're undertaking collectively, steering towards peace and justice.

The project is supported by

Kungsträdgården, 30/04 2022
When cherry blossoms in one part of the world, colours may fade in another.