Painting workshop in Artten Gallery – Liberate yourself through colours.
December, 11 at 14.00-15.30 Price 550 SEK /pers
Book a unique workshop with L.Christeseva and liberate yourself through color and music. Share a glass of wine with new friends and connect. Stay in the present while colours run across the canvas, dissolving your anxiety, cutting down on your worrying and rumination, and keeping you grounded and connected to yourself and everything around you. This process of liberation through colours is the key to staying healthy, happy and successful.
This workshop begins with a glass of wine and meeting new friends. Further, you will have a unique possibility to play with colors and shape new forms without special skills, using only your imagination, curiosity, and courage.
The artist Ludmila Christeseva guides you through the creative process full of colors, joy and great memories.
Unique and exciting art experience
Share wine, dance and paint together
You take home an artwork that you have created yourself

Materials are included. However, you might wish to bring an extra pair of socks.
Available dates: December, 11 at 14.00-15.30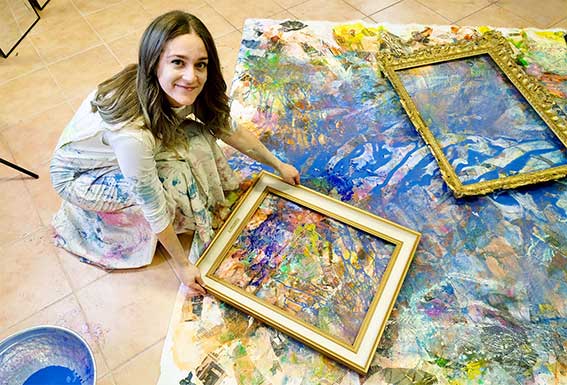 Arts and crafts for peace and freedom.
Watch the video to learn more about the workshop.
The craft that unite, heal, and last.