On February, 24, Russia invaded Ukraine bringing people around the world together in a powerful force supporting and helping the Ukrainian people. In March 2022, two Belarusian artists living in Stockholm, Edvard Tarletski and Ludmila Christeseva, began making camouflage nets Hantverk som räddar liv for the Ukrainian Armed Forces. Newly arrived Ukrainian mothers and children contributed to the manufacturing process with their hope and prayers while curious Swedes learned to say "Slava Ukraini". "Crafts that save lives" united hundreds of people from different parts of the City of Stockholm in a powerful movement based on creativity and sustainability aiming towards peace and freedom for Ukraine and for the rest of the world.
The first workshop Hantverk som räddar liv took place on March, 20 and since then, it has become a belief and a movement – to braid every Saturday for the Ukrainian Army. During workshops, we have had the possibility to support many families from Ukraine. In our work, we focus on inspiring Swedes to meet and interact with families and children who fled death and horror in Ukraine, finding a new home in Sweden.
Photograph: Sebastian von Wachenfeldt
The Minister of Foreign Affairs Ann Linde wove a band into a memorial net Deti/Children dedicated to Mariupol's tragedy.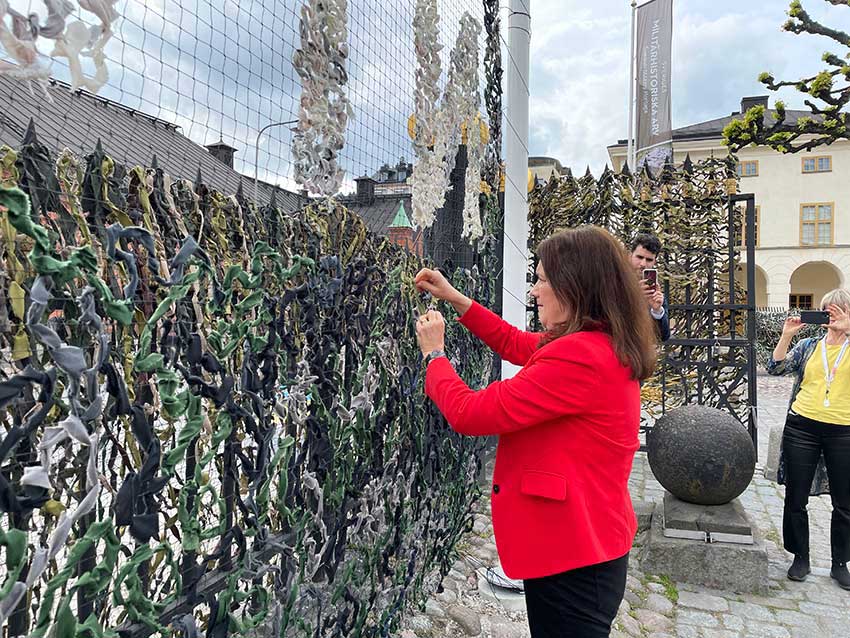 The camouflage pattern is omnipresent in our lives from hunting wildlife to fashion trends. During the war, camouflage nets are used to protect people and equipment from the enemy's eye. The origin of camouflage can be traced back to antiquity and myths list different techniques of making it. The well-known legend of the Trojan Horse for instance also mentions camouflage. Camouflage nets we use today, are dated at over a hundred years ago during the First World War.
The war in Ukraine created a demand for camouflage nets and many Ukrainian women began to craft them by hand from new textiles and recycled clothes. Camouflage weaving has become a part of Ukrainian culture in recent years and it will certainly remain after the end of the war, as an independent form of textile craft narrating about hope, justice, and optimism. One of our young participants Masha Babii from Kiev has been braiding camouflage nets since 2016. Today she is 18 years old. Hantverk som räddar liv is an art project with the research question: What is Masha´s and her friends' in Ukraine future? How can we change it?
art
Every Saturday:
since 24.02.2022
The workshops are free of charge and everyone can join. We meet at Östermalmstorg. During the workshops, we share a Swedish Fika, learn how to say Slava Ukraini, and support each other.

The project is supported by

Kungsträdgården, 30/04 2022
When cherry blossoms in one part of the world, colours may fade in another.